Collaborative Working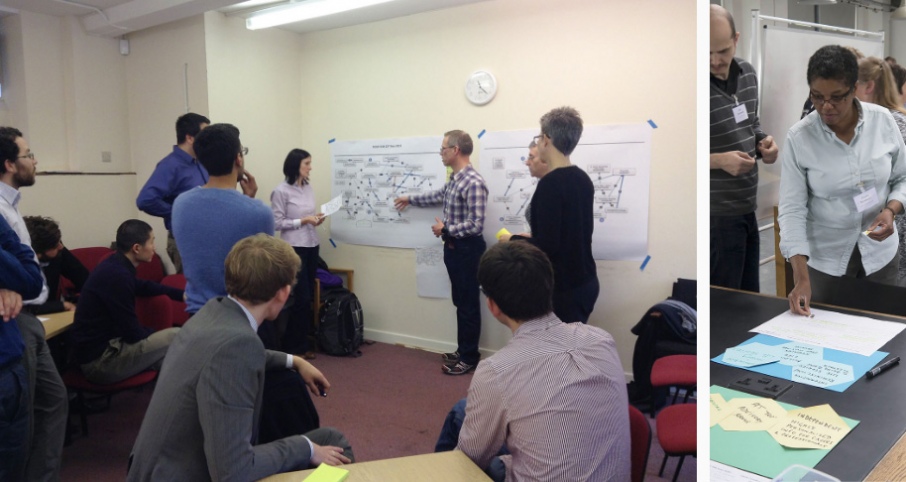 Complex projects involve collaborative partnership arrangement between different organisations and teams. Getting these teams talking the same language and agreeing common goals is essential if you want success at the end of the process. Working with our team of facilitators will make this process more straightforward and will generate new and exciting possibilities. We specialise in bringing together groups of strangers and forming them into collaborative project teams.
We facilitate networking workshops on broad research themes to encourage early career researchers to develop their collaborative network
"This workshop was well organised It was short, and the time spent was well invested and provided the challenge of making the people from very different communities find a common ground" - ECR, University of Warwick 2019
We work with our clients to collaboratively design events so that it is exactly what you want. This can be over a long period of time, as this testimony demonstrates from JPI Urban Europe, who we have worked with for four years.
When a new collaborative group has been established you need to quickly get a shared understanding of each other. Read how we can do this visually.
"The structuring of the sessions and the mixing of the groups were excellent tools to generate new collaborations. The facilitators made it clear that the event was about building collaborations and gave the meeting a real sense of focus" - Janet Valentine, Medical Research Council
Critical Team Interventions
Sometimes a project team is just not functioning well enough and this can put the project at risk. Bringing the management team together to review what is happening and to agree a way forward is a constructive way of resolving the conflict. We have successfully supported project teams to get back on track with communication and productivity.
It is vital that action plans get implemented. Providing regular feedback and coaching to your team members or leaders will support the process so you move from talking about collaboration to actually doing it. Our facilitators can support by running project retrospectives and peer to peer consultancy sessions (these can be run both on line and face to face)
Review Meeting
Working collaboratively does not always go as planned, and having a neutral facilitator run a "lessons learnt" session will rebuild trust in the process and make sure that your project will go forward positively.
How We Help
As professional facilitators, we know how to encourage dialogue so that views are heard respectfully that allows the group to evolve and work together.
Start conversations with people from a range of different backgrounds so that a shared understanding and common language can be reached.
Provide structures to support joint problem-solving
Use tools for creativity to unblock current thinking and open up thinking to possibilities.
Capture output from the collaboration so that it can be built on in the future.
Examples in Practice
A three-day event for the Medical Research Council and Economic and Social Research Council was designed to bring together academics and employers to explore issues around the reality that we are all going to have to work longer. These were explored from health, social and economic perspectives with an aim to identify areas for further research and exploration.
Academic and Industry Partnership Building Case Study
Following an innovation Sandpit event the successful teams were bought back together to find ways that their funded projects could work more collaboratively so that the funding impact could be multiplied.
From Competition to Collaboration - getting teams to work together
A project workshop to engage all collaborative parties at the beginning of a project to establish ways of working and expectations
To discuss how we can work with you to create a collaborative event, please contact us